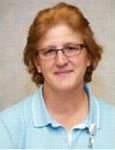 Carol Mulheim, OCRA President
I am a Cancer Registrar!!!!
Many people do not understand the complexity of our jobs! It is much more than collecting statistics. It is more than entering data. You know I can go on & on.
Hidden Jewels of Cancer Care – Think about it. I am sure you are smiling as you are processing the theme of this year's "National Cancer Registrars Week".
I would like to take a moment to THANK all of the cancer registrars who contribute to the cancer registry profession. We all, no matter how small the contribution, make an impact to the care of our cancer patients and to your place of employment. Each one of us, believe it or not, is a vital part of the success of your cancer program. Without that hidden jewel, more than likely tucked away, your cancer program would not be complete.
I do hope during next week, April 9 – 13, all the HIDDEN JEWELS OF CANCER CARE take a moment and reflect on all aspects of the cancer registry and realize how important you are.
I just want to thank you again for trusting me and believing in me to be the President of the Ohio Cancer Registrars Association, I am very proud of all our members and our organization.
Sincerely,
Carol A. Mulheim, CTR
President – OCRA 2016-2018